Valley Laser Care
Providing Stunning Smooth Skin
The Ultimate Guide to Laser Hair Removal
Is laser hair removal right for you?
In this guide you will learn how laser hair removal works, the different types of lasers for different skin types, and how long you can expect your results to last, 
Valley Laser Care now offers An Immediate Solution for Lesions, Skin Tags and More!
Immediate results are seen just from a 3-5 second per lesion.
It is effective on all skin types and all ethnicities. It is an exceptional add-on to any facial or resurfacing treatment.
15min session $65
Lamprobe is a non-invasive treatment that uses a high frequency and radiofrequency probe that does not penetrate the skin.
Lamprobe is a non-invasive treatment that uses a high frequency and radiofrequency probe that does not penetrate the skin.
Lamprobe helps many common minor skin conditions such as:
Skin tags
Telangiectasia
Milia
Cholesterol deposits
Clogged pores
Cherry angiomas
Spider naevi
Fibromas
Acne
Valley Laser Care Services
The following facial procedures are effective treatments for acne scars, age spots, wrinkles, sagging skin, and dullneness.
Ultimate Facial - $75
A relaxing and effective treatment that is customized to your skin care needs.
Dermaplane Facial - $85
A medical grade scalpel to scrape (not cut!) across the skin. The main reason is to remove vellus hair on your face, also known as peach fuzz and to remove dead skin cells.
Microdermabrasion Facial - $125
A noninvasive, skin resurfacing procedure that gently exfoliates or polishes away the top layer of dead skin cells.
Glycolic Chemical Peel - $55
For normal/ combination skin.
Lactic Chemical Peel - $55
For normal to dry skin with irregular pigmentation.
TCA Peel - $75
10% Depigmentaion Peel designed to be gently yet very effective to promote lightening.  Great for re-texturizing the skin.
Laser Hair Removal is a safe and effective way to get rid of unwanted hair. Laser Hair Removal can show immediate results and dermatologist and FDA approved.
Face
Full face $80
Lip $30
Chin $30
Lip and chin $50
Neck ( front or back) $50
Arms
Full arms $150
Underarms $60
Forearms $80
Body
Chest $125
Back $125
Full Legs $300
1/2 Legs $150
Bikini Line $60
A photofacial, (or fotofacial) is a 30-minute procedure in which intense pulses of light penetrate the skin treating wrinkles, sun damage, and the aesthetic impact of enlarged pores.
It is non-invasive, has obvious results, and has little to no risk or discomfort.
Skin tightening is the tightening of the skin with heat on the face, neck, or body. It is considered to be one of the most effective methods for tightening loose, crepe-y skin.
There are three skin tightening procedures; 1) ultrasound, 2) radiofrequency, and 3) radiofrequency microneedling. Before treatment, the right procedure, or combination of, will be determined that will work best for you and your skin care goals.
Laser Artist
Angela Townsend
Angela Townsend from Valley Laser Care, has been helping clients for over a decade with compassion and empathy for their skin needs whether in treating a medical problem or for cosmetic purposes.
Her detail orientation and follow through with her patients regularly produces best in class results while keeping patient's health & wellbeing at the highest priority.
If you are looking for some medical attention to help improve a current skin condition, schedule some time today to get a free consultation with Angela.
Your Spot Awaits!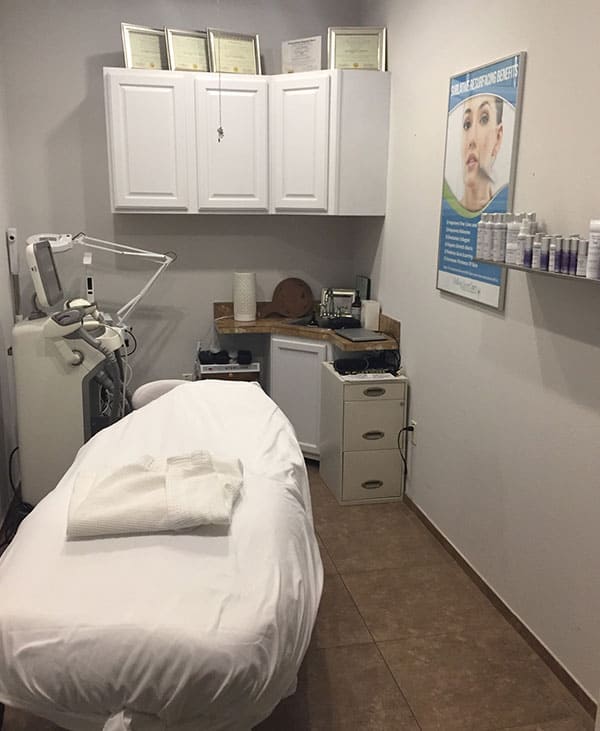 Skin Care
Laser Skin Care
Facials
Laser Hair Removal
Skin Tightening
Skin Remodeling
Valley Laser Care Hours
Monday: 
9:00 AM to 5:00 PM
Tuesday to Thursday:
9:00 AM to 7:00 PM
Friday & Saturday:
9:00 AM to 4:00 PM
Sunday:
Closed